Expert facilitation, coaching and training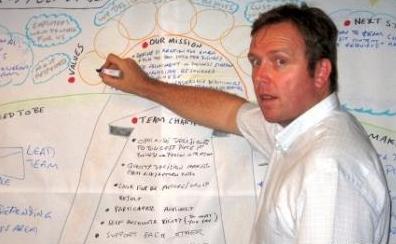 Leadership development

from first time leaders through to senior executives and leadership competency / talent developement.

Team development

for newly created teams , teams that are having "challenges" and teams that are looking to celebrate success and step up to their next level.

B2B Sales

from new hire sales staff training through to creating strategic sales planning processes.


Innovation development

from tactical creativity techniques through to embedding cultures of innovation.
Start a dialogue
This website gives you a snapshot of what I do and how I can support you. The best way to boost your own, your teams or your businesses performance is to get in touch so we can discuss your aims and how I can support you to reach them,
Facilitation
As a Certified Professionsal Facilitator of the International Association of Facilitators, Andi has experience in a range of intervention from strategic alliance planning, through product and service innovation using Innovation Games and on to conference design and moderation.
Coaching
As a Professional Certified Coach of the International Coach Federation, Andi coaches leaders and managers at all levels in a range of industries to be more effective and create significant results for themselves and the businesses they lead. Andi coaches one on one, with groups or intact teams either face to face or virtually.
Training
As a senior master trainer, Andi brings face to face, blended and webinar delivery experience to his projects. Andi has project managed training academy rollouts, through to global Train The Trainer programmes and was a pioneer in experiential learning when based in Spain.
Business experience
Andi brings twenty years plus business experience to how work. Andi has led as a director a range of SME's and worked as a leader in a Fortune 100 company. Andi has worked in more than thirty countries and spent 16 plus years in Spain where he worked in a range of roles in fluent Spanish.
---
WEBSITE UNDER MASSIVE RECONSTRUCTION
Here is some basic information about me. The best way to better understand my background and what I do is is to connect and start a dialogue in Spanish or English!
Andi has over 20 year's experience in business in a range of roles, including director of a family business in the health care sector, manager in a Fortune 500 defence contractor, owner and partner of several learning and events companies including a virtual learning organisation. Whilst in all of these roles Andi has worked with and for people at all levels in an organisation from the shop floor through to the boardroom.
Having lived in Spain for over fifteen years, Andi has extensive multicultural experience having delivered over 30 countries in Asia, Middle East, Latin America, North America and Europe to participants from more than 60 countries.
In addition to his strong business background, Andi brings a thorough training and experience in coaching and facilitating to all of the work he does. He has a passion for performance with an orientation for action and is strongly influenced by systems thinking, thinking skills, positive psychology and visual thinking.
Andi's key areas of expertise are:
•Developing leaders
•Increasing team performance
•Supercharging innovation
•B2B Sales improvement
Andi Roberts is a
> Professional Certified Coach designation of the International Coach Federation
> Certified Professional Facilitator of the International Association of Facilitators
> Trained Innovation Games Facilitator
> An Associate Lecturer for the Open University Business School in Marketing and Finance
Andi Holds:
> Professional Certificate & Diploma in Management
> MBA with focus in strategy, innovation & change, knowledge management & strategic HR.
> Post Grad Certificate in Systems Thinking in Practice
> Certifications in a broad range of psychometrics and 360 degree surveys including MBTI & Lominger Voices
Studying: MSc Systems Thinking in Practice
Specialties
Leadership development , Team Development , Innovation Development, B2B Sales Development, Coaching , Facilitation , Training , Spanish speaking , English Speaking, assessments , feedback coaching , graphic facilitation , experiential learning , simulations , board games for learning, systems thinking MBTI certified , Lominger Voices and Team Architect , Innovation Games, Visual Facilitation